Calender
Rules Participants
Rules Organizers
Sweden Surfski Open
---
Scandinavia Surfski Open
---
National Open Championships
---
Other races in Scandinavia
---
Apply to the competitions in time to make it easier for organizers to plan the competitions. You book on respective organizers webpage. See Home page for links.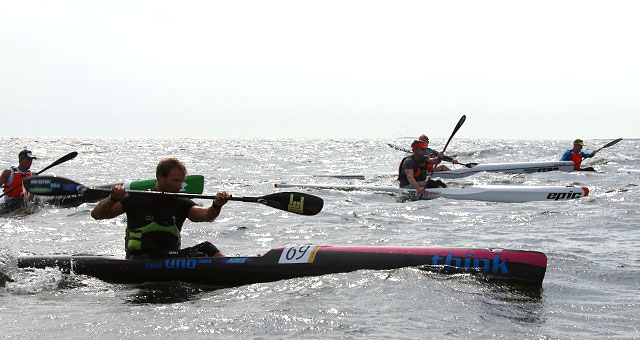 Rules Participants
---
Paddlers welcome to the new sweddish surfski cup. We and our partners arrange surfski open sea racing. The soul of surfski is that everyone can participate. All you need is a license from your club, if you dont have membership in a club you can allways get a license from the organizer on the raceday. New for 2017 is a funrace outside competition wich is for you who wants to test surfski racing just for fun. This class is open for surfski, seakayaks, oceankayaks.
Classes Sweden Surfski Open
SS1 Men Woman 2 classes
SS2 Woman, Men, Mixed 1 class
SS1 U19 Men Woman 1-2 class
SS1 SS50 Men Woman 1-2 classes
SS1 FunRace alla age, open for surfski ocean and seakayak
At least 3 participants in a class to be estimated, two classes can be put together to reach the correct amount of participants.
Your mandatory equipment
Leg leash
PFD (life jacket)
Flare
Clothings depending on weather for at least 30 min in the water. Black or white shirts are not accepted only colored.
Cellphone. We recommend a telefon with buttons preferably CAT or similar, we do NOT recommend smartphones since they are very hard to operate in wet conditions.
Recomended: PLB and or VHF
Demands from the organizer
Inspection of the boats and paddlers equipment will be done.
The organizer have fully right to test one or all paddlers capacity regarding reentry.
If the organizer jugde that a participant have lack of reentry or stability skills they have the right to stop a paddler to start or take a paddler out of the competition during the race. The paddler have the right to continue on his own risk outside of the race and without safetyhelp.
Out on the ocean
All paddlers have an obligation to help kayakers in distress unless other help is nearby. Participant shall always be able to do a reentry in the condition he is paddling in.
---
The Start
Start methods:
Open water: paddlers sit in surfski with leash connected.
Beach start: paddlers stand in the water with the surfski aside, leash connected.
Starting procedur:
Mandatory Equipment Organizer: 2 Start flags +2 Land flag +2 Flag Poles(broomstick or similar) +Signal horn +Megafon. Flags provided by Surfski-Open.com. Polehight min. 200cm (provided by the organizer). Land flag shall be up latest from the skipper meetings start placed at the formation/meeting area. If possible one land flag shall be rised 30 min before start close to the sea entry area. The two start flags must be placed visible for all paddlers when they stand at the starting line. Preferably placed on a safetyboat in front of the startingline.
30 min to start, land flag up in sea entry area. Long Signal 3-5 sec. Shout out in a megafon 'Start in 30 min'
5 min to start 2 flags.
2 min to start 1 flag.
1 min to start (means start within 1 min). Officer rise one flag in his hands and shouting in a megafon 'Start within 1 min'.
Start: Officer gives a +3 second long signal and lower the flag (used as a start flag).
Apply the Svenska Kanotförbundet's rules for warning/disqualifying of paddlers not following the rules during start procedure.
---
Organizers Sweden Surfski Open
Race Course
SS1: 16-35 km. The course shall be at least 80% on open sea. The race course shall be a downwind* course as much as possible.
SS2, U19 and Fun Race: Recommended distance: 10-15km. Three courses alowed: Triangular, downwind and "lifesaving". Triangular course is recommended if the paddlers are young and/or inexperienced. The organizer shall aim for at least 40% downwind*. Fun Race and U19 is optional to arrange. Sponsors will be able to rent out surfskis for these events.
*waves from behind or angeled, 0-approx. 70 degrees.
Rules
Sweden Surfski Open shall apply a two-day wind window to increase the chance of having good surfski conditions. The SS1 competition shall be held on the best of the two days within the window and where the second day is used for SS2/U19/Fun Race and/or surf life saving competitions. The day with the best wind/wave prediction shall be chosen and announced for SS1 no later than 20:00 the day before the first race day. All races shall have a planned finish time/last paddler finish two hours before sunset.
Skippers Meeting: At the end of the skipper's meeting the start time (in hours and minutes) shall be announced, which shall be minimum 1 hour from the end of the meeting. The start can be changed with short notice in place and time for safety reasons.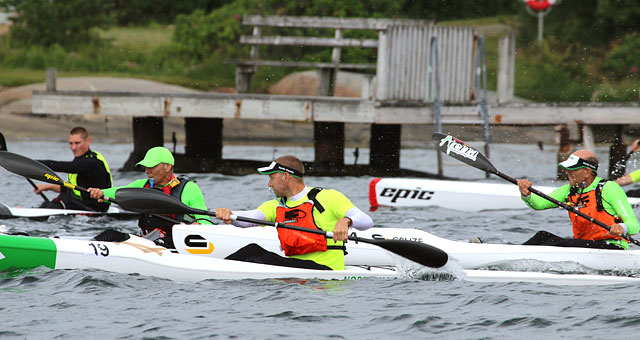 ---
Safety boats
The organizer shall ensure that there are the right number of boats in relation to the weather / conditions and the number of participants to conduct the event in a safe manner.
Classes
The organizer shall allways arrange and give result in SS1 men / woman and SS2 competition. SS1 and SS2 race shall be arranged separate days. FunRace and U19 can be arranged with SS2 or SS1, Fun Race shall have a shorter track 10-15 km if it goes with SS1. The FunRace is not a competition. With less than three woman/men participants in U19 and SS50 its possible to merge woman and men class. Mandatory classes is SS1 and SS2 and SS50, Fun Race and U19 is optional.
Results
Surfski-Open.com provide organizer with a Excel file for result. The Excel file shall be e-mailed to surfski-open latest 4 hour after last paddler crossed the finnish line. The organizer shall also send the result, a photo free to use and a few words about the competition to local press and following: svtsport@svt.se, sporten@tv4.se
Award ceremony
Organizer shall provide a award ceremony that is worthy for the competition.
Scandinavian Surfski Open use local rules!
Sponsors
We support surfskiracing and Surfski Open: Aterra, Carbonology Sport, Nordic Kayaks, Revo Kayaks, Sportkajaker, Mazu, Kajaktiv, Think. Contact: info@aterra.se.