Organizers Sweden Surfski Open
---
Race Course
SS1: 16-30 km. The course shall be at least 80% on open sea. The race course shall be a downwind* course as much as possible.
SS2, U19 and Fun Race: Recommended distance: 10-18km. Three courses alowed: Triangular, downwind and "lifesaving". Triangular course is recommended if the paddlers are young and/or inexperienced. The organizer shall aim for at least 60% downwind*. Fun Race are optional to arrange. Sponsors will be able to rent out surfskis for these events.
*waves from behind or angeled, 0-approx. 70 degrees.
Rules
Sweden Surfski Open shall apply a two-day wind window to increase the chance of having good surfski conditions. The SS1 competition shall be held on the best of the two days within the window and where the second day is used for SS2/U19/Fun Race and/or surf life saving competitions. The day with the best wind/wave prediction shall be chosen and announced for SS1 no later than 20:00 the day before the first race day. All races shall have a planned finish time/last paddler finish two hours before sunset.
Skippers Meeting: At the end of the skipper's meeting the start time (in hours and minutes) shall be announced, which shall be minimum 1 hour from the end of the meeting. The start can be changed with short notice in place and time for safety reasons.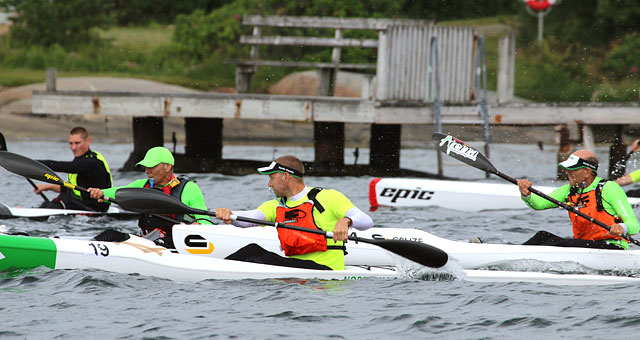 ---
Safety boats
The organizer shall ensure that there are the right number of boats in relation to the weather / conditions and the number of participants to conduct the event in a safe manner.
Classes
The organizer shall allways arrange and give result in SS1 men / woman and SS2 competition. SS1 and SS2 race shall be arranged separate days. FunRace and U19 can be arranged with SS2 or SS1, Fun Race shall have a shorter track 10-15 km if it goes with SS1. The FunRace is not a competition. With less than three woman/men participants in U19 and SS50 its possible to merge woman and men class. Mandatory classes is SS1 and SS2 and SS50, Fun Race and U19 is optional.
Results
Surfski-Open.com provide organizer with a Excel file for result. The Excel file shall be e-mailed to surfski-open latest 4 hour after last paddler crossed the finnish line. The organizer shall also send the result, a photo free to use and a few words about the competition to local press and following: svtsport@svt.se, sporten@tv4.se
Award ceremony
Organizer shall provide a award ceremony that is worthy for the competition.