Sweden Surfski Open
---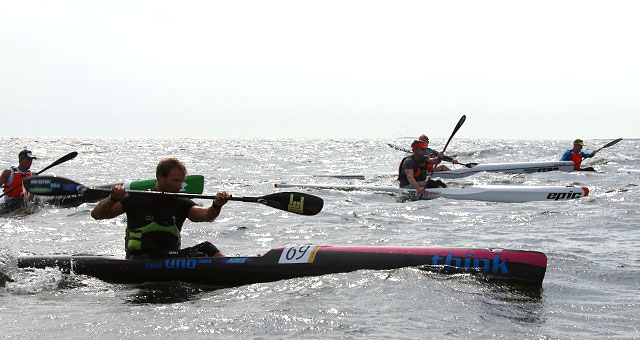 Rules Participants
---
Paddlers welcome to Surfski Open. We and our partners arrange surfski open sea racing. The soul of surfski is that everyone can participate. All you need is a license from your club, if you don't have membership in a club you can always get a license from the organizer on the raceday. 2019 we aim to offer a recreational class ('motionsklass') with a shorter distance (8-12km) in all of the Surfski Open competitions.
Classes Sweden Surfski Open
SS1 Men Woman
SS2 Woman, Men, Mixed
SS1 U19 Men Woman
SS1 SS50 Men Woman
SS1 Recreational (Motionstävling)
At least 3 participants in a class to be estimated, two classes can be put together to reach the correct amount of participants.
Your mandatory equipment
Competition licence for 2019
Number on both side of the boat, paddler provide the numbers that shall be 14 cm high. Aterra will have number to sell on the race at self cost.
Leg leash
PFD (life jacket)
Smoke Flare
Fox 40 whistle or similar
You shall be dressed to manage at least 30 minutes in water.
Colourful clothing on shirt and/or PFD, fully black or white is not allowed!
Cellphone with Webtracking app installed, w. at least 80% battery capacity
Competitors must be able to re-enter from water. (Spot-check, on demand. The safety officer on the boats or on land have the right to refuse your start.)

Recomended:

PLB, VHF or button cell phone
Sticker on paddle in sharp color
Demands from the organizer
Inspection of the boats and paddlers equipment will be done.
The organizerhave fully right to test one or all paddlers capacity regarding reentry.
The safetyboat has fully right to to take a paddler out of the race if they consider that there is a risk for the paddler. A safetyboat/s shall be available as far as possible for all paddlers.
If the organizer jugde that a participant have lack of reentry or stability skills they have the right to stop a paddler to start or take a paddler out of the competition during the race. The paddler have the right to continue on his own risk outside of the race and without safetyhelp.
Out on the ocean
All paddlers have an obligation to help kayakers in distress unless other help is nearby. Participant shall always be able to do a reentry in the condition he is paddling in.
---
The Start
Start methods:
Open water: paddlers sit in surfski with leash connected.
Beach start: paddlers stand in the water with the surfski aside, leash connected.
Starting procedur
Mandatory equipment organiser: 1 start flag (with a stick), 1 land flag,horn and/or a megaphone. Flags will be provided by Surfski-Open.com. Land flag shall be hoisted before the skippers meeting. 5 min to start, raise the start flag. Long signal +3 second in signal horn. Paddlers shall paddle to start line within 5 minutes.
When all paddlers have lined up (within these 5 minutes) the starter calls out 'START WITHIN 1 MINUTE'.
Start: Starter gives a +3 second long signal and lower the flag.
Apply the Svenska Kanotförbundet's rules for warning/disqualifying of paddlers not following the rules during start procedure.
---
Sponsors
We support surfskiracing and Surfski Open: Aterra, Carbonology Sport, Nordic Kayaks, Revo Kayaks, Sportkajaker, Mazu, Kajaktiv, Think. Contact: info@aterra.se.