Organizers Sweden Surfski Open
---
Race Course
SS1: aprox 15-20 km. The race course shall be focused on downwind. We recommend at least 80% if possible. If flat water conditions - less than 4m/s - a triangle course/a course with he same start and finish can be used.
SS1 U-15-U19 and recreational class: Recommended distance: 8-12km. If organizers want to offer a full weekend program SS2 and Surf Lifesaving competition can be arranged on the second day as well as training downwind and/or other surfski events.
Classes Sweden Surfski Open
SS1 Men Woman mandatory
SS2 Woman, Men, Mixed
SS1 U19 Men Woman
SS1 U15 Men Woman
SS1 Recreational (Motionstävling)
At least 3 participants in a class to be estimated, two classes can be put together to reach the correct amount of participants. The organizer shall always arrange and give result in SS1 men/woman. With less than three woman/men participants in U19 and SS50 its possible to merge woman and men class.
Boat Numbers
The paddler shall have numbers on both sides of the boats. Aterra will supply paddlers with numbers. info@aterra.se Paddlers use the same number the whole year.
Transport to start/finnish
The organizer is not obliged to offer passenger transport by bus or trailer but can do so if they will.
Rules
Sweden Surfski Open organizer shall apply a two-day open window to increase the chance of having good surfski conditions. The SS1 competition shall be held on the best of the two days within the waiting period where the second day may be used for SS2/recreational/surf lifesaving or a trainingsession. The day with the best wind/wave prediction shall be chosen and announced for SS1 no later than 12:00 the day before the first race day. All races shall have a planned finish time/last paddler finish two hours before sunset.
Skippers Meeting
At the skipper's meeting the start time shall be announced, which shall be at least 1 hour ahead from the announcement. The start can be changed with short notice in place and time for safety reasons. Skippers meeting shall be held at the starting point. The paddlers shall have the possibility to get information about and see the finish area.
The Start
Start methods:
Open water: paddlers sit in surfski with leash connected.
Beach start: paddlers stand in the water with the surfski aside, leash connected.
Starting procedur
Mandatory equipment organiser: 1 start flag (with a stick), 1 land flag,horn and/or a megaphone. Flags will be provided by Surfski-Open.com. Land flag shall be hoisted before the skippers meeting. 5 min to start, raise the start flag. Long signal +3 second in signal horn. Paddlers shall paddle to start line within 5 minutes.
When all paddlers have lined up (within these 5 minutes) the starter calls out 'START WITHIN 1 MINUTE'.
Start: Starter gives a +3 second long signal and lower the flag.
Apply the Svenska Kanotförbundet's rules for warning/disqualifying of paddlers not following the rules during start procedure.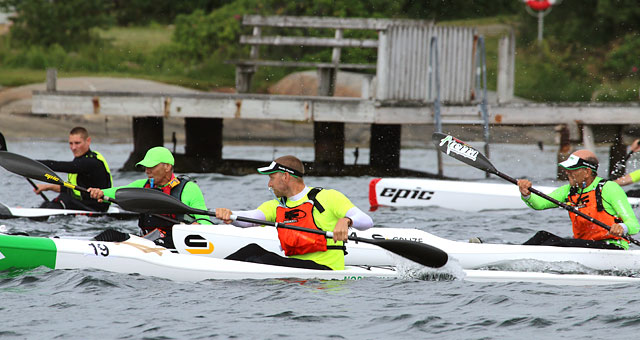 ---
Safety boats
The organizer shall ensure that there are the right number of boats in relation to the weather / conditions and the number of participants to conduct the event in a safe manner. Choose a safety boat that can handle the conditions. A RIB is to prefer if possible. Boat driver needs experience of the conditions. The boat driver and other onboard crew need to know how to rescue a paddler. The crew on the safety boat shall be able to communicate with organizer on land and also be able to call for help in case of emergency. The boat driver need to know how to navigate to a certain position given by the organizer on land.
Webtracking
The organizer shall use the web tracking service and each participant shall have the web tracking app installed on smartphone. Also the participant shall be connected to the current race. It's recommended that organizer set aside one crew member to organize, handle and follow the race on webtracking.se. This crew needs to communicate with safety boat if a paddler needs help. More information about how to handle the web tracking service will be given to each organizer.
Results
Surfski-Open.com provide organizer with a Excel file for result. Results can be provided by web tracking service. Surfski Open recommend to send results and photos to: svtsport@svt.se, sporten@tv4.se
Please fill in the result in the file below.
Resultreport Surfski Open 2019. Send to info@aterra.se
After ski & award ceremony
It is recommended to offer some kind of food/meal/BBQ after the race/before the price giving ceremony.
Organizer shall provide a prize giving ceremony that is worthy for the competition.It's recommended to award top three paddlers in SS1 senior and U19 and Masters. The prizes shall have the same value for men and women. If budget allows it is very appreciated to do a draw among all participants.